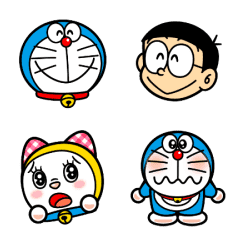 Animation only icon
Fujiko-Pro
Doraemon's animated emojis are here. Doraemon and his buddies are expressing themselves with wild expressions and movements. Add them to your messages or use them as small stickers.
Animated emoji are only available in LINE 11.15.0 and above on smartphones, and only work in chats.
Click an emoji for a preview.
©Fujiko-Pro
Other stickers from Fujiko-Pro
More emoji like these