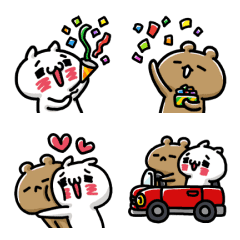 Animation only icon
Love Mode: Animated Emoji
igarashi yuri
This pair is in love, and they're ready to share it in your chats. Mix and match these emoji vertically and horizontally for all kinds of cool messages.
Animated emoji are only available in LINE 11.15.0 and above on smartphones, and only work in chats.
Click an emoji for a preview.
©igarashi yuri
Other stickers from igarashi yuri
More emoji like these