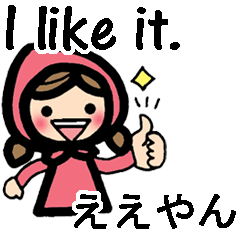 Premium
Kansai/Osaka dialect and English

Etsuko

Bilingual (Kansai/Osaka-ben and English) stickers with a cute girl. You can use them to your friends in/from the Kansai/Osaka area.
Data pembelian dikumpulkan untuk laporan penjualan ke kreator konten.

Tanggal pembelian dan negara/wilayah yang terdaftar pada pembeli termasuk ke dalam laporan penjualan. Informasi yang dapat diidentifikasi tidak akan pernah disertakan ke dalam laporan.

Klik stiker untuk pratinjau.
Copyright (C) 2015 Etsuko All Rights Reserved.
Stiker Serupa