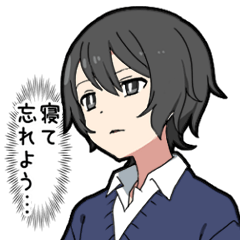 Premium
DK Co., LTD.

We have May sickness in Japan. This means freshmen or new employees feel depressed shortly after beginning school or work.Let's send the ''May sickness''.

Data pembelian dikumpulkan untuk laporan penjualan ke kreator konten.
Tanggal pembelian dan negara/wilayah yang terdaftar pada pembeli termasuk ke dalam laporan penjualan. Informasi yang dapat diidentifikasi tidak akan pernah disertakan ke dalam laporan.


Klik stiker untuk pratinjau.
©2014 DK Co., LTD. All Rights Reserved.
Stiker Serupa