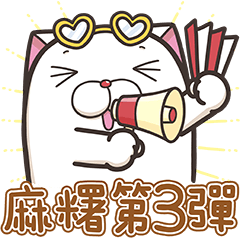 Premium
Mochi dad

Mochi part three is finally back again! Cuter, easier to use, and chubbier than before. Hurry up to collect it for more chemistry when you chat with friends .
Data pembelian dikumpulkan untuk laporan penjualan ke kreator konten.

Tanggal pembelian dan negara/wilayah yang terdaftar pada pembeli termasuk ke dalam laporan penjualan. Informasi yang dapat diidentifikasi tidak akan pernah disertakan ke dalam laporan.

Klik stiker untuk pratinjau.
©2020 Mochi dad/THAT FISH CORP.
Stiker Serupa