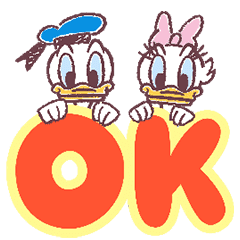 Animation only icon
Donald & Daisy Supersized Letters

The Walt Disney Company (Japan) Ltd.

Let Donald and Daisy Duck make sure you get your point across with these stickers featuring supersized letters. They're easy-to-read, easy-to-use, and above all, cute! These ducks' charming expressions and comical movements are sure to breathe new life into your chats.
Auf Sticker klicken, um Vorschau zu sehen.
©Disney/Pixar
Ähnliche Sticker