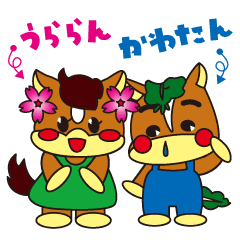 Hokkaido Urawaka town Uraran & Kawatan

Hokkaido Urakawa Tourist Association

Hokkaido Urakawa's mascot " Uraran & Kawatan " is coming up as the sticker!! This sticker will cheer your friends up instead of you! Have a nice chatting!
Click a sticker for a preview.
© 2012 Hokkaido Urakawa Town All rights Reserved.
Similar stickers