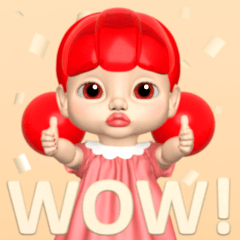 Premium
Animation only icon
Sugar Baby Jjelly : 3D animated ver.01

HUEPROJECT

Jjelly is a fairy of jelly. Jjelly is often mistaken for a fairy of tomato. So Jjelly became cynical about everything but always tries to say the right thing.

Data pembelian dikumpulkan untuk laporan penjualan ke kreator konten.
Tanggal pembelian dan negara/wilayah yang terdaftar pada pembeli termasuk ke dalam laporan penjualan. Informasi yang dapat diidentifikasi tidak akan pernah disertakan ke dalam laporan.


Klik stiker untuk pratinjau.
© HUEPROJECT
Stiker Serupa