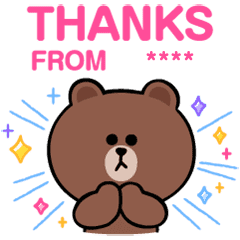 Name sticker
BROWN & FRIENDS Custom Stickers

LINE

Make your very own personalized sticker set with the LINE gang! Add your unique name to the stickers and get ready to wow your friends and family. Captions may not appear correctly on some versions of LINE. Be sure to preview your caption before purchasing.
Zur Vorschau auf einen Sticker klicken. Stelle sicher, deine Aufnahme zu prüfen, bevor du dieses Set kaufst.
Copyright © LINE Corporation
Ähnliche Sticker