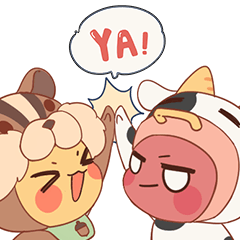 Premium
GF MMORPG-Debut of Sweet Little Elf Pal

X-LEGEND Entertainment Co., Ltd.

There's a legendary Elf-naughty & funny as it can be, acting cute as you shall see. Its warm company will make bad mood flee!Let's enjoy in the chilling vibe! These stickers will show up extra large in chats.

Data pembelian dikumpulkan untuk laporan penjualan ke kreator konten.

Tanggal pembelian dan negara/wilayah yang terdaftar pada pembeli termasuk ke dalam laporan penjualan. Informasi yang dapat diidentifikasi tidak akan pernah disertakan ke dalam laporan.


Klik stiker untuk pratinjau.
©2020 X-LEGEND Entertainment Co., Ltd.
Stiker Serupa