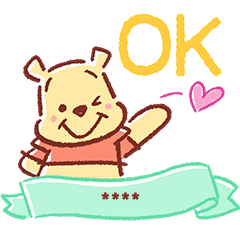 Name sticker
Winnie the Pooh Custom Stickers

The Walt Disney Company (Japan) Ltd.

Visit the Hundred Acre Wood for your very own custom sticker set with Winnie the Pooh and pals! This set's soft colors and hand-drawn touch are sure to keep things extra cute in your chats. Be sure to preview your caption before purchasing. Captions are sized for Western scripts. Not all languages may appear correctly.
Click a sticker to preview it. Be sure to test your caption before purchasing this set.
©Disney
Similar stickers