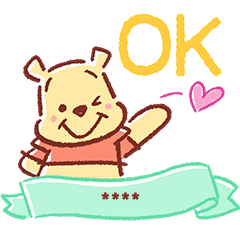 Name sticker
Stiker Custom Winnie the Pooh

The Walt Disney Company (Japan) Ltd.

Stiker custom dari Winnie the Pooh kini tersedia di LINE! Sisipkan namamu untuk stiker yang lebih personal dan unik dengan sentuhan ilustrasi lembut menggemaskan. Pastikan untuk meninjau tampilan desain stiker sebelum membeli. Input dalam huruf selain huruf latin mungkin tidak akan dapat ditampilkan dengan benar.
Klik stiker untuk pratinjau. Pastikan untuk mengecek tampilan teks sebelum membeli stiker.
©Disney
Sticker yg serupa