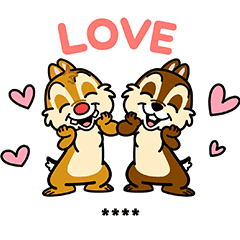 Name sticker
Chip 'n' Dale Custom Stickers

The Walt Disney Company (Japan) Ltd.

Chip 'n' Dale have their own custom sticker set! Simply add your name to these stickers to give your chats a unique flair. The colorful design really makes your chats pop! Be sure to preview your caption before purchasing. Sticker captions are optimized for Western alphabets. Not all languages may appear correctly.
Zur Vorschau auf einen Sticker klicken. Stelle sicher, deine Aufnahme zu prüfen, bevor du dieses Set kaufst.
©Disney
Ähnliche Sticker