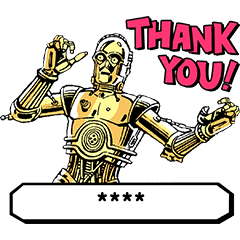 Name sticker
Star Wars Custom Stickers

The Walt Disney Company (Japan) Ltd.

Custom Stickers now available in Star Wars™! Inspired by retro comic books, this set features characters from The Skywalker Saga. Be sure to preview your caption before purchasing. Sticker captions are optimized for Western alphabets. Not all languages may appear correctly.
Click a sticker to preview it. Be sure to test your caption before purchasing this set.
TM & © 2019 LFL.
Similar stickers