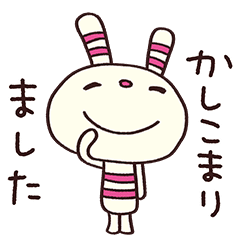 Love of Honorifics The striped rabbit

Mami / AESTROOP Inc.

Let's deliver a good message with polite words.Please use it for family, school, work.
Data pembelian dikumpulkan untuk laporan penjualan ke kreator konten.

Tanggal pembelian dan negara/wilayah yang terdaftar pada pembeli termasuk ke dalam laporan penjualan. Informasi yang dapat diidentifikasi tidak akan pernah disertakan ke dalam laporan.

Klik stiker untuk pratinjau.
© 2022 AESTROOP Inc.
Stiker Serupa