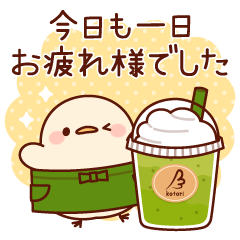 Popup only icon
Plump little bird 3 (positive)

DECOR

This is a Sticker with a cute, plump little bird popping out! Let's send positive words to various people such as family, friends, and lovers !

Data pembelian dikumpulkan untuk laporan penjualan ke kreator konten.
Tanggal pembelian dan negara/wilayah yang terdaftar pada pembeli termasuk ke dalam laporan penjualan. Informasi yang dapat diidentifikasi tidak akan pernah disertakan ke dalam laporan.


Klik stiker untuk pratinjau.
© DECOR
Stiker Serupa