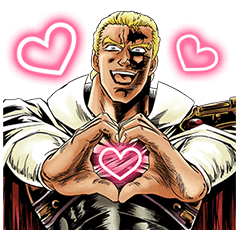 HOKUTO NO KEN -Strawberry flavor-

Coamix Co.,Ltd.

Holy Emperor Thouzer is raging! No, he's in love! Wait what? Ah, he's just being deep like always. Anyway, get this set and you'll be sending so many 1-liners, your friends won't be your friends for long!
Click a sticker for a preview.
©Y&K 2013,©B&T.H/COAMIX 1983, CGG-804
Other stickers from Coamix Co.,Ltd.
Similar stickers