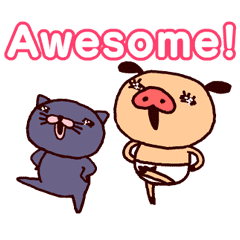 Animation & Sound icon
PANPAKA PANTS 5: Talking Mr. Dance Pants

DLE/SBS

Voice actress Nanjo Yoshino reprises her role as Panpaka-kun in this new set of animated sound stickers, starring Punyan the cat and the piglet himself! The sound for these stickers will play on iPhones even if your device is set to silent mode.
Click a sticker for a preview.
©PPP
Similar stickers