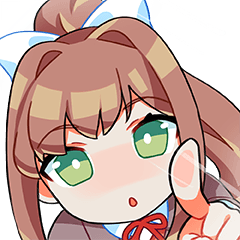 Premium
Doki Doki Literature Club Stickers

Team Salvato

Doki Doki Literature Club is here for you! Have DDLC characters Sayori, Natsuki, Yuri, and Monika fill your chat with their cute and expressive traits.

Data pembelian dikumpulkan untuk laporan penjualan ke kreator konten.
Tanggal pembelian dan negara/wilayah yang terdaftar pada pembeli termasuk ke dalam laporan penjualan. Informasi yang dapat diidentifikasi tidak akan pernah disertakan ke dalam laporan.


Klik stiker untuk pratinjau.
Dan Salvato LLC
Stiker Serupa