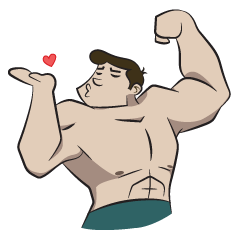 Premium
Toto

" Mr.Musclemeal " Who love bodybuilding & eat healthy diet, strengthen muscles. Let's have fun with CHAT!

Data pembelian dikumpulkan untuk laporan penjualan ke kreator konten.
Tanggal pembelian dan negara/wilayah yang terdaftar pada pembeli termasuk ke dalam laporan penjualan. Informasi yang dapat diidentifikasi tidak akan pernah disertakan ke dalam laporan.


Klik stiker untuk pratinjau.
© 2014 yai-n-toto art
Stiker Serupa