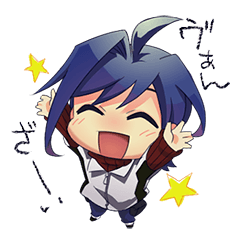 Premium
DLE

Stickers from the hit anime "Mini Van" are finally here! Add Aichi and the rest of the gang in all their miniaturized adorableness to your collection!

Data pembelian dikumpulkan untuk laporan penjualan ke kreator konten.
Tanggal pembelian dan negara/wilayah yang terdaftar pada pembeli termasuk ke dalam laporan penjualan. Informasi yang dapat diidentifikasi tidak akan pernah disertakan ke dalam laporan.


Klik stiker untuk pratinjau.
©MINIVAN2
Stiker Serupa