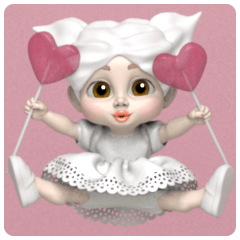 Premium
Animation only icon
Sugar Baby HUE: 3D animated ver.01

HUEPROJECT

HUE is a fairy of Whipped Cream, living in the Sugar Land! In this sweet animated sticker set, HUE will melt everyone's heart!
Data pembelian dikumpulkan untuk laporan penjualan ke kreator konten.

Tanggal pembelian dan negara/wilayah yang terdaftar pada pembeli termasuk ke dalam laporan penjualan. Informasi yang dapat diidentifikasi tidak akan pernah disertakan ke dalam laporan.

Klik stiker untuk pratinjau.
© HUEPROJECT
Stiker Serupa