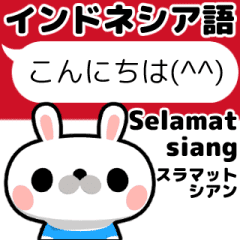 Premium
Animation only icon
Indonesian Cute Nodded Rabbit

Maeda Musashi

Cute Rabbit moving Indonesian language sticker. Basic greeting and reply in Indonesian. In the balloon there are Japanese with emoticons.
Data pembelian dikumpulkan untuk laporan penjualan ke kreator konten.

Tanggal pembelian dan negara/wilayah yang terdaftar pada pembeli termasuk ke dalam laporan penjualan. Informasi yang dapat diidentifikasi tidak akan pernah disertakan ke dalam laporan.

Klik stiker untuk pratinjau.
Maeda Musashi
Stiker Serupa