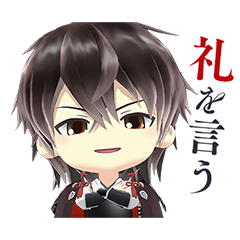 Premium
TV anime "Ikemen Sengoku" Vol.1

CYBIRD Co.,Ltd

The most adorable Sengoku warlords from popular TV anime "Ikemen Sengoku" are here! These cuties will fill your chats with fun and excitement every day!

Data pembelian dikumpulkan untuk laporan penjualan ke kreator konten.
Tanggal pembelian dan negara/wilayah yang terdaftar pada pembeli termasuk ke dalam laporan penjualan. Informasi yang dapat diidentifikasi tidak akan pernah disertakan ke dalam laporan.


Klik stiker untuk pratinjau.
©C/ISAP
Stiker Serupa